Chinese Tattoo
Csymbol.com is the home for authentic Chinese characters and Chinese names. If you are new to this site, please view the FAQs and the Sample Symbols first.
If you want to use our Chinese names or characters for Tattoo, that would be fine with us. But you might also check out Personal Chinese Stamp.
Chinese Tattoo Culture
Tattoo has a long history in China. Chinese tattoo was probably originated from a punishment to prisoners in ancient China, which was a type of tattoo on one's face. Read more..
Chinese Tattoo Video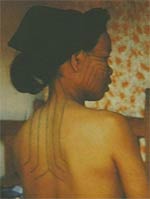 Here is a short video clip about Chinese tattoo from CCTV. It introduces the traditional tattoo of the Li women. China has 56 ethnic groups and the Li is one of the minorities. Most of the Li people live in Hainan Province. See the tattoo video.
Chinese Stamp Art
Chinese stamps are unique in Chinese culture, which not only have practical functions, but also are works of art themselves and an indispensable part of Chinese painting and calligraphy. Read more...
Tattoos / Body Piercings
Chinese characters are often used for tattoos. Karen Hudson has one of the best tattoo sites on the Net.