Chinese Benevolence
'Benevolence (ren2)' is one of the most important ideas by Confucius. It is often used together with righteousness (yi4).
Confucius said, 'Benevolence is to love people.'
Confucius also said, 'To be benevolent, one has to act by the five principles, respect, lenience, trustworthiness, diligence and kindness.'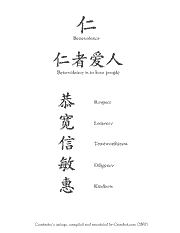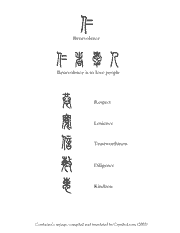 The pictures above show the samples (in reduced size) of Confucius's sayings about Benevolence in two different styles. The full package includes six different styles. They are designed to be printed on a copy paper of 8.5 x 11 inches so they are perfect for framing. You may also use them for your own design. We will send the URL for downloading the package by email.
Please order the package with all the six styles. The images are in 2550 x 3300 Pixels. $8.99
A Journey of a Thousand Miles Begins with the First Step
Back to Chinese Culture Index