Sterling Silver 18mm Square Slide
The square slide is specially designed to make it look like a Chinese seal chop (or stamp). The characters on the slide are in Chinese ancient seal script. It could be a wonderful gift for anyone, especially artists and martial arts masters.
You can either personalize the sterling silver square slide with a name (a word) or choose one of the designs we already have below.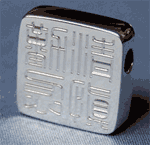 Personalized Sterling Silver Pendants, Charms, Bracelets, Earrings, Necklaces