Chinese Name for Framing Based on English Name
--- Perfect for a digital frame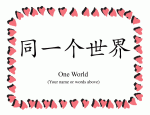 If you want to get a large image of your Chinese name for framing or your documents, this is the page for you. We provide six different designs for the frameable images, which are designed to be printed on a copy paper of 8.5 x 11 inches. You may also use the high resolution images (600 dpi) for your own design. Click here to see an example of the designs (in reduced size). The area of the frameable image is about 50 times of the regular image (300 dpi).
In addition, the Chinese name will be in six different scripts (see them here). Thus you can just print the one you like or put all the images in a digital frame so you see all the images in different styles. The images of the Chinese characters will be in the png format. If you need tif images, let us know.
We will send you the URL for downloading the images of the Chinese name you ordered in one or two business days so please make sure double-check your email address entered on the Billing Information page. One of the advantages of the digital image is you don't need to wait for shipping (also shipping could be expensive). When you get the digital images, just print the one you like, then put it in your favorite frame. Or simply save them in a digital frame so you will see all of them. You may also combine the name with your own images to have your own design, then frame it. You can certainly use the digital images in different ways.
Please follow the easy steps below to order it. It is only $29.
Frameable Chinese Characters for a Phrase
Personal Chinese Stamp for a Name
Chinese Name Culture
Questions About Chinese Names