T-Shirt with Your Name in Chinese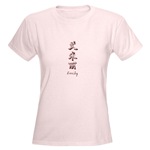 You can now get a T-Shirt with your name in Chinese or Chinese characters for a word (phrase). It's a unique gift for Valentine's Day, Mother's Day, Father's Day, birthdays, or any occasion you dream up. You won't find it in a store.
The t-shirt is in different colors and sizes. The English name or word on the t-shirt is optional and the beautiful Chinese characters on the t-shirt can be either vertical or horizontal.
It is $26.99 (free standard shipping included).
Will ship in 3 business days.
Please follow the easy steps below to order it.
Product Information
The high-quality 100% cotton t-shirt is durable and pre-shrunk. The t-shirt will be fulfilled from our Chinese Culture Store with CafePress.
5.6 oz. 100% cotton
Standard fit
Gifts with Chinese Characters
Infant/Toddler T-Shirt with Chinese Name
Frameable Chinese Name
Personal Chinese Stamp for a Name

Chinese Name Culture
Questions About Chinese Names