Teddy Bear with Chinese Characters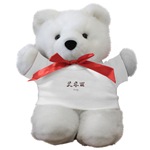 You can now get a Teddy Bear with a name in Chinese or Chinese characters for a word (phrase). It's a unique gift for birthdays, or any occasion you dream up. You won't find it in a store.
The English name or phrase on the teddy bear is optional and the beautiful Chinese characters on the t-shirt can be either vertical or horizontal.
It is $24.19 (free standard shipping included).
Will ship in 3 business days.
Please follow the easy steps below to order it.
Product Information
Our plush bear is a cutie in his own message-bearing t-shirt and festive red ribbon. He's a great gift for Valentine's Day, baby showers, birthdays, get well-wishes, a pair of wedding bears, or any reason you dream up. Put a smile on someone's face. Just grin and bear it! The item will be fulfilled from our Chinese Culture Store with CafePress.
Soft plush fur
11 inches tall
Red bow and t-shirt include
Gifts with Chinese Characters
Infant/Toddler T-Shirt with Chinese Name
Frameable Chinese Name
Personal Chinese Stamp for a Name

Chinese Name Culture
Questions About Chinese Names